16th Session of the Conference of States Parties to the CRPD
"Universal Design in Kindergarten and School, – guidelines and universal tools"
Aiming to promote the cause of inclusive education and its pivotal role in promoting human rights and sustainable development, a side event titled ""Universal Design in Kindergarten and School, – guidelines and universal tools" was organized and hosted by Rehabilitation International – Education, on June 13, 2023. The event was held in conjunction of the 16th session of the UN Conference of State Parties (CoSP), aimed to raise awareness and highlight the significance of inclusive education in empowering individuals with disabilities and ensuring their complete integration into society.
In this side event, panelists and speakers addressed the needs of children and youth with disabilities, as well as presented examples and advice for the kindergarten and schools and other institutions working with Inclusive Education, who needs these guidelines and tools for making their institutions accessible for all children, including children with disabilities.
The side event was moderated by the RI Immediate Past President, Mr. Jan Monsbakken, while the opening statement was made by Ms. Gry Haugsbakken, the State Secretary in the Ministry of Culture Norway who draw the attention to the importance of inclusive education systems.
Mr. Arne Lein from RI Norway, presented the fundamental conventions and international regulation for making kindergarten and school accessible for all. Mr. Jurgen Dussel form Disability Ombud in Germany spoke about how different disabilities need different tools – guidelines and universal tools can help us making the kindergarten and school accessible.
Ms. Eva Buchman, Chair of The Norwegian Federation of Organizations of Persons with Disability presented the guidelines for parents and how to help parents in the communication with kindergarten and school. The Chair of the RI Education Commission, Ms. Tone Mork presentation was focused on how to implement the Universal Design in Kindergarten and Schools and the leadership skills required in the implementation process.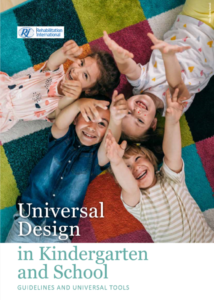 Mr. Darryl Barrett from the Technical Lead (Disability), WHO Headquarters presentation was focused on the health equity to advance inclusion for persons with disabilities.
In conclusion the RI Secretary General, Ms. Teuta Rexhepi focusing on the project "Universal design in Kindergarten and School – guidelines and tools" spoke about the possibility of creating a universal symbol for accessible kindergarten and schools.

The event served as a reminder of the transformative power of inclusive education and the collective effort required to create an inclusive and empowering educational environment for all.

Source: https://www.riglobal.org/rehabilitation-international-education-commission-side-event/