The executive committee of Rehabilitation International (RI) held a video conference on July 28. Zhang Haidi, president of RI and chairperson of the China Disabled Persons' Federation (CDPF), presided over the meeting and delivered a speech.
Zhang Haidi, president of Rehabilitation International (RI) and chairperson of the China Disabled Persons' Federation (CDPF), speaks during a video conference held by the RI executive committee on July 28. [RI]
Zhang began her speech by reporting RI's recent work. She said that on behalf of the RI, she had attended the global launch event of the World Report on Hearing, the roundtable meeting for the 14th session of the Conference of States Parties to the Convention on the Rights of Persons with Disabilities, and the Generation Equality Forum of the UN Women.
Zhang actively promoted the pragmatic cooperation between RI and the UN Department of Economic and Social Affairs, the UN Economic and Social Commission for Asia and Pacific, the UN Women, the UN Population Fund, and the World Health Organization and the International Network for Bamboo and Rattan, supporting RI members with essential medical supplies to fight against the COVID-19.
Zhang also described how RI, the CDPF, the UN Economic and Social Commission for Asia and Pacific, and the UN Women jointly launched an initiative promoting the development of women with disabilities, issued stamps themed around women with disabilities, and held symposiums on women with disabilities. The construction of the main body of China University of Rehabilitation Sciences has been concluded, which will provide a platform for exchanges and cooperation among the RI members and experts in the future.
Zhang pointed out that RI will continue to contribute to the progress of people with disabilities in the world. RI will further expand the scale of its membership, enhance the vitality of its members, optimize its organizational structure, guarantee fund supports, explore new public goods for the international community, take advantage of more international platforms to further improve its influence, and strive for sustainable development.
Zhang stressed that when RI celebrates its centenary anniversary next year, all members of the executive committee and members of the organization should uphold the torch of the institution to pass it to the next 100 years, and let the radiances of humanitarian care warm the hearts of people with disabilities.
The Vice Presidents and Chairs of standing commissions also reported their recent work and discussed the organization's future development and centenary celebrations. The agenda of the meeting also covers RI's cooperation projects and preparation for its 24th World Congress.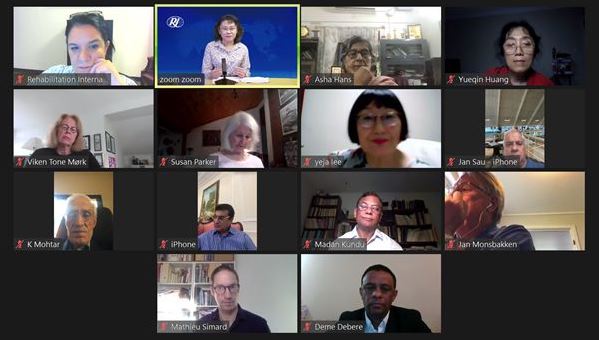 Zhang Haidi (second from top left), president of Rehabilitation International (RI) and chairperson of the China Disabled Persons' Federation (CDPF), speaks during a video conference held by the RI executive committee on July 28. [RI]